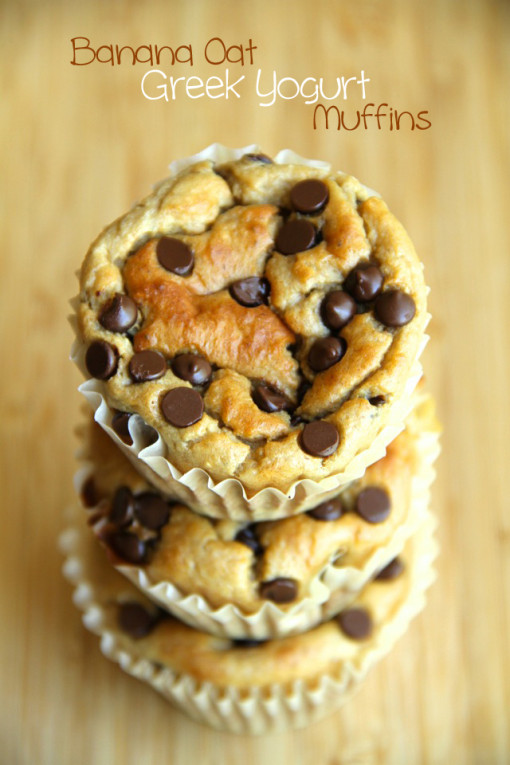 Want a healthier version of your morning muffin? Give these Banana Oat Greek Yogurt Muffins a try! Thank you Amanda of Running With Spoons for this delicious recipe!! Enjoy!! 
Recipe Yields 12
Ingredients
1 cup plain Greek yogurt
2 ripe bananas
2 eggs
2 cups rolled oats (old fashioned or quick)
1/4 cup brown sugar
1 1/2 tsp. baking powder
1/2 tsp. baking soda
1/2 cup chocolate chips, mini or regular
Instructions
Preheat oven to 400F and prepare a muffin pan by spraying cavities with cooking spray or lining them with paper liners. Set aside.
Add all ingredients except for chocolate chips to a blender or food processor and process on high until oats are broken down and batter is smooth and creamy. Stir in chocolate chips by hand.
Pour batter into prepared muffin pan, filling each cavity until it is about 3/4 full. Optional: sprinkle a few chocolate chips over the top of each muffin.
Bake for 15-20 minutes, until the tops of your muffins are set and a toothpick inserted into the middle comes out clean. Allow muffins to cool in pan for ~10 minutes before removing. Store in an air-tight container for up to a week.
Photo & Recipe: Running With Spoons