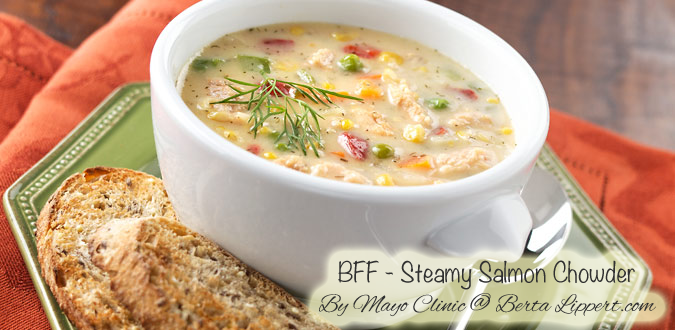 BFF: Mayo Clinic's Steamy Salmon Chowder
Posted by b in BLOG, Recipes
06
Feb
2015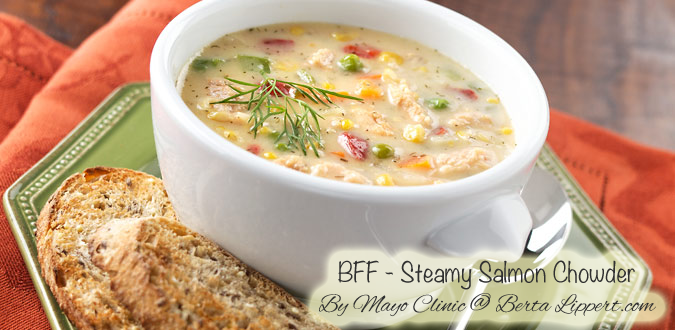 Snow is falling right now and continuing over the weekend. So I was looking for a hearty, warm dinner to prepare and found this Steamy Salmon Chowder recipe from Mayo Clinic. This recipe isn't the typical unhealthy version, but it's equally delicious! This healthier option is full of vegetables and heart healthy salmon. When I read it can be prepared in one pot in less than 30 minutes, I was sold! Here's the recipe if you'd like to give a try as well! Enjoy!
Ingredients:
1 teaspoon oil, olive

1/2 cup(s) celery chopped

1 clove(s) garlic minced

1 can(s) broth, chicken, fat-free, less sodium (15 ounces)

2 1/2 cup(s) hash brown potatoes with peppers and onion, frozen country-style

1 cup(s) peas and carrots, frozen

1/2 teaspoon dill

1/2 teaspoon pepper, black ground

6 ounce(s) fish, salmon, canned or pouched, pink, (bones removed)

1 can(s) milk, fat-free evaporated (12 ounces)

1 can(s) corn, cream-style, no-salt-added (14 3/4 ounces)
Instructions: (Serves 8)
In a large saucepan over medium heat, saute olive oil and celery for about 10 minutes. Add the garlic and saute for another minute.
Add the chicken broth, hash browns, peas, carrots, dill and pepper and bring to a boil. Reduce heat and simmer for about 10 minutes, until the vegetables are done but not overcooked.
Add the salmon, separating it into pieces with a fork. Stir in the evaporated milk and corn and cook until heated through.
Nutrition Info (Amount Per Serving):
Calories 

140

Total Fat 

2g

Saturated Fat 

1g

Sodium 

450mg

Carbohydrates 

22g

Dietary Fiber 

2g

Protein –
Related Posts :