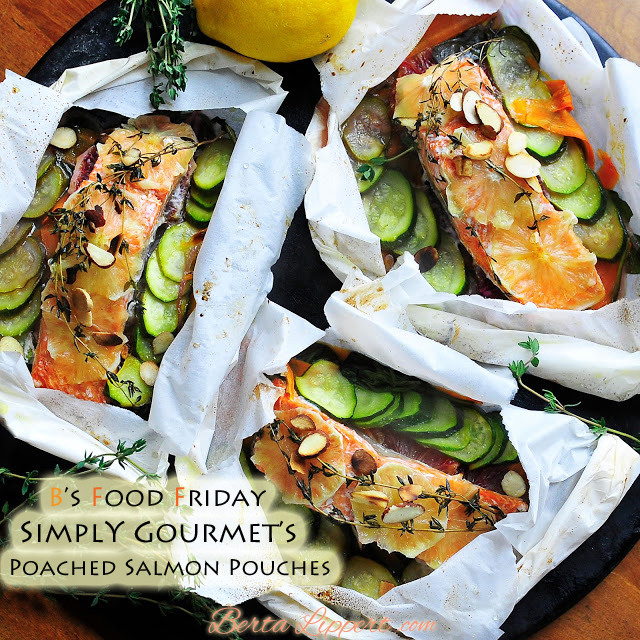 BFF: Poached Salmon Pouches
Posted by b in BLOG, Healthy Lifestyle, Recipes
21
Feb
2014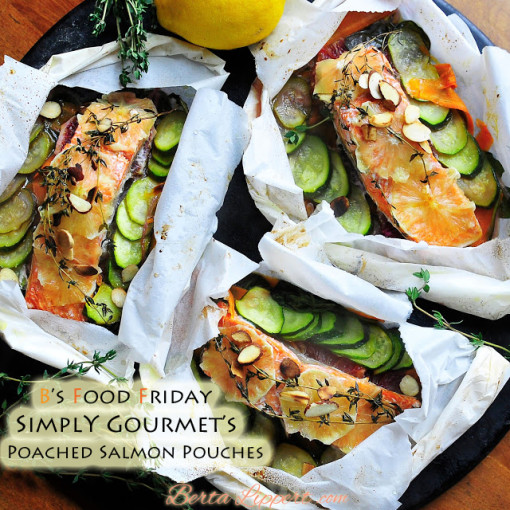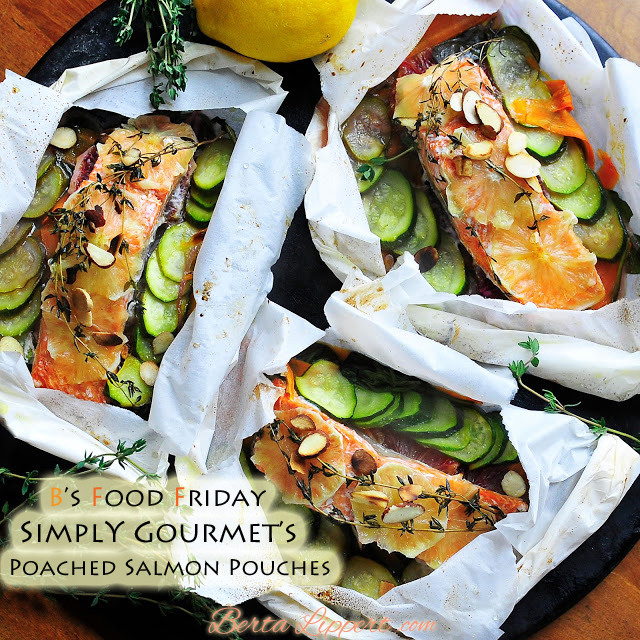 I've mentioned my brother in Alaska who is an amazing fisherman and sends me 50lbs of Alaskan Salmon every year for my birthday. It is the BEST present and I'm one lucky, and well fed, little sister!
Well all that salmon is usually baked, or grilled so I thought I'd try something different and came across this recipe from Sherron Watson of Simply Gourmet. Doesn't this look delicious?! Sherron has a ton of great recipes on her site. Be sure to check them out here.
Here's her Parchment Poached Salmon Pouches if you'd like to give them a try.
Enjoy!
Parchment Poached Salmon Pouches (Servings: Six Pouches)
1.5 pounds of salmon, cut into 2 inch wide pieces
2 small zucchini's, cut at an angle into thin slices
2 small carrots, peeled and then using the peeler, slice curls of carrots
2 blood oranges, peeled and sliced thin
1 lemon, peeled and sliced thin
1/2 cup of spinach PER pouch
1 small red onion, sliced thin
fresh thyme sprigs (about 2 per pouch)
olive oil
salt
Preheat oven to 400 degrees.
Have all of your ingredients prepped and ready to go. Cut your salmon into desired servings, find your olive oil and have the salt ready to season.
Tear a piece of parchment paper about 20 inches long for each pouch. Stack your veggies, fruit and salmon on one side.
Drizzle olive oil over the top (the amount is up to you, some like more than others), season with salt and add the sprigs of thyme.
Fold your parchment paper in half; starting on one side, fold the paper over each other and continue around to the other side. The parchment should not come undone. Take the end and tightly fold it under the pouch.
Bake time should be 20 minutes. Rest the pouches for 5 minutes.
Serve the pouches on a plate or remove contents to a plate.
NOTE: To open pouches, use a pair of scissors and cut down the middle with a few cuts to the left and a few to the right, this allows people to finish tearing their pouches. Remember there is steam in the pouch, be very careful to not burn your fingers with the first cut.
Photo & Recipe: Simply Gourmet
Related Posts :