If you have a goal to be more active, but you haven't been active in a while, then this is the post for you! If you have a goal to walk as part of a weight loss journey, then this post is for you too!
Today I'm sharing a resource created by the National Heart, Lung, & Blood Institute, and recommended by Mayo Clinic. It's a 12 Week Walking Program that is a perfect place to begin your journey of becoming more active, including if you have a goal to lose weight. Walking is great for your overall heath and well-being with a ton of positive health benefits.
Frequency First
Before I dive into the program, let me share why I really like this for someone just starting out. When I'm coaching someone who wants to be more active, but hasn't been in a while, I always have them start with frequency first. Meaning, don't worry about how long or intense your workout are. Just build the healthy habit of being more active more often. Then you can increase the duration of your workouts, followed lastly by increasing the intensity to meet your desired fitness level. This program helps you to do exactly that.
Another reason I love this program for someone just starting out is that it requires no equipment or special gear. Your regular walking or running shoes is all you need. Also, the program can be done anywhere you feel safe and in the climate that works well for you. No gym membership required!
Where To Walk
It's currently summer in the U.S., and the perfect time and program to take advantage of the warmer weather. But you could still do this program indoors if you need or prefer to. You could walk in a mall, skywalk, your workplace, an airport, university, community center, or of course in your own home on a treadmill, or by walking in place. Walking in place may sound odd, but it works! There are plenty of videos on YouTube if you'd like to see people sharing their tips and routines for walking in place.
Getting Started
Helping people create change in their lives is what I do. And I know that setting goals and a plan for achieving them dramatically increases your chances of succeeding. So I created a workbook to help you plan your walks each month over the next 12 weeks. More on that though, later.
First, before you begin, make sure you share the plan with your doctor to be sure it's a good fit for your current health status. If so, great! If not, ask them for resources to help you find something that would be a good fit for you. If you get the all clear from your doctor, let's take a look at the overall plan, and how each walk will unfold.
Warm-Up ~ Brisk Walk ~ Cool-Down
Each walk will include a warm-up, brisk walk, and a cool-down. All of the warm-ups and cool-downs are 5 minutes each. Over the course of the 12 weeks, your brisk walk will gradually increase in time (duration), until you're walking briskly for 30 minutes.
Aim to walk five days a week, but if that's too much right now, no worries. Fit in what you can. One walk a week is better than none, and you can work your way up to the recommended five days a week. Walking briskly (breathing heavier than normal, but still able to carry on a conversation) for 30 minutes, five days a week, will help you meet the recommended 150 minutes of moderate activity a week. For more information on the current recommendations for physical activity, see my post here.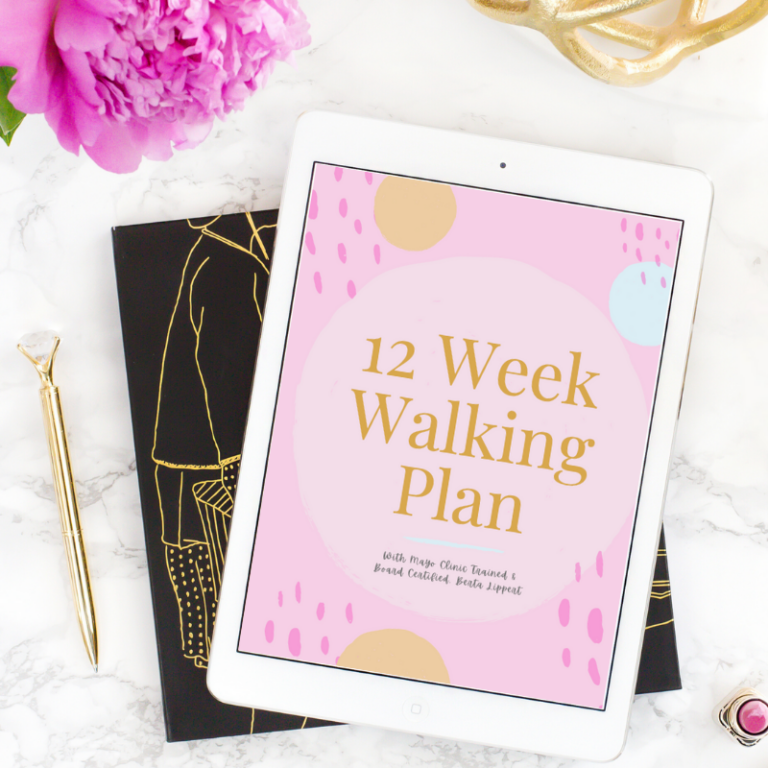 Action Plan
Now, let's create an action plan to help you meet your goal of completing this program. In the 12 Week Walking Plan workbook I created, print out pages 6, 7, and 8. Use page 5 to plan your walks each week. On the blank calendars you printed out, you'll see a W, B, and C listed each day. W stands for warm-up, B stands for brisk walk, and C stands for cool-down.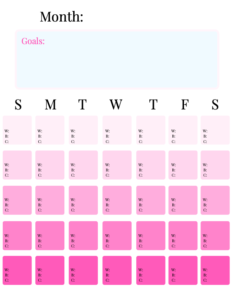 Fill in the month and days on the blank calendar, as well as your goals for the month. They could be to walk 5 days a week, drink 8 glasses of water a day, and get 8 hours of sleep each night. Whatever they are, write them down. We're much more likely to achieve our goals if we write them down.
Next, mark off your rest days. For the days you're walking, list the allotted times for your warm-up, brisk walk, and cool down, according to page 5. You can do this all at once, or at the beginning of each month. Either way, hang your newly created calendar somewhere you'll see it every day. Mark a star or heart (or any other means of celebrating) on the days you did walk. Every day walked is worthy of celebrating and feeling great! Not just the end of the 12 weeks. Celebrate your progress as you go! And don't worry if you missed a day you had planned to walk. If you can fit it in elsewhere, great! If not, no worries. Just walk the next day you had planned.
At the end of the 12 weeks, if you choose, you can work on increasing the duration or intensity of your brisk walks to increase your fitness level.
You can download the 12 Week Walking Plan Workbook here.
I hope you enjoy the program, and I wish you all the best in achieving your goal to be more active!
You got this!
love, b
If you like content like this, sign up for my Welcome Series full of resources to live a HAPPY, HEALTHY Life, Full of PURPOSE & MEANING! :)