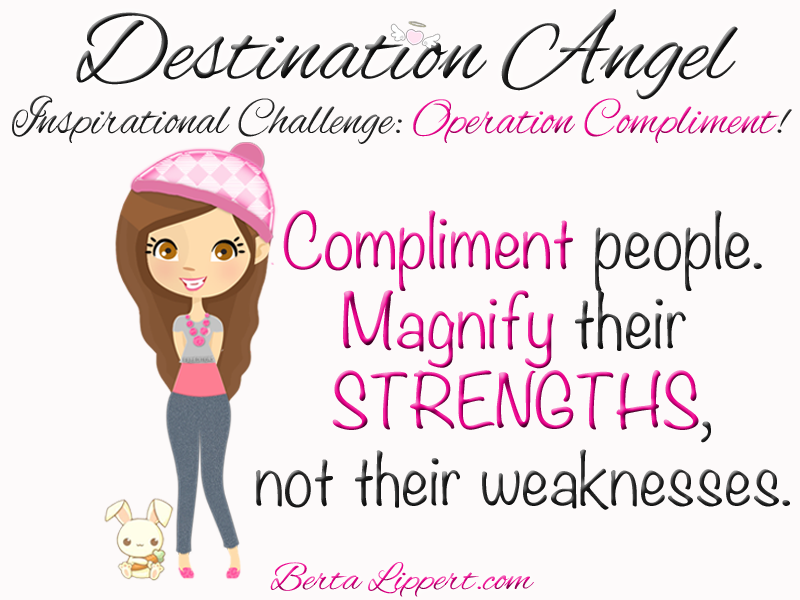 Inspirational Challenge: Operation Compliment!
Posted by b in BLOG, Inspiration & Happiness, Purpose & Meaning
12
Jan
2015

Welcome to the first Inspirational Challenge of 2015!! I've got a challenge lined up for you each week to complete a small gesture, that can make a BIG difference in the lives of others. It's an opportunity to do something that doesn't take a lot of time, energy or money, BUT can absolutely brighten someone's day! You in? Great!! Let's get started!
Our first challenge is "Operation Compliment". Between now and next Monday, your assignment is to take a few moments and simply compliment someone. Anyone! If you compliment one person, your mission is complete! If it's easy and feels good, and you'd like to complete this challenge more than once, great!! Compliment your BIG heart out Angel!!
 

And make no mistake about it, your kind words, do make a difference. And of course, that's what we're all about here at

Destination Angel

.
Now, it doesn't matter how you choose to compliment someone. Compliment them in a way that feels comfortable and authentic to you. If you're a bit shy, write a note or send a text or email to compliment someone. Not shy at all? Compliment them face to face! Or call them on the phone! Any way you choose, it will be a wonderful experience for the person receiving your compliment.
Know someone who would be great at this challenge? Invite them to be an Angel too! The more Angels we have at Destination Angel, the better!
Have a great week everyone and THANK YOU for being YOU. love, b
Related Posts :