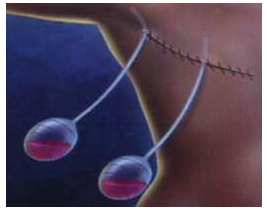 After my double mastectomy, I left the hospital with two drains, one under each arm. The management of these two drains has been the worst part of this whole procedure. You wouldn't think two little drains could be so uncomfortable, limiting and down right annoying but they were.
The type of drains I had are called Jackson-Pratt or JP Drains. The drains were literally stitched into my skin. Every time I moved my arm the stitch would pull. It was not pleasant.
I couldn't wear shirts with sleeves very well so I was living in Hanes men's tank tops. They were large enough that I could step into them so I wouldn't have to raise my hands over my head. These tanks were a great minimal investment. They were very comfortable and cheap so I didn't care if they got stretched out, bled on or anything else that could damage them.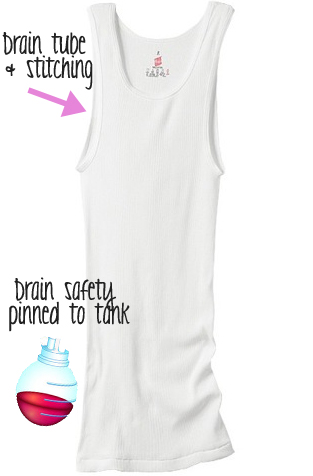 I couldn't have the tube of the drain on the inside of the tank top because it tugged at the stitch. So I had to have them on the outside. I simply pinned the drain to the bottom of the tank. It worked perfectly as the arm cut out of the tank was low enough that it didn't rub against the drain tube or stitching.
I did have to be really careful though as one drain got caught on a chair. Ouch! And apparently I'm not a quick study as the same drain got caught on a doorknob about a week later. Thankfully neither incident resulted in the drain being pulled out. Well done stitches! Well done!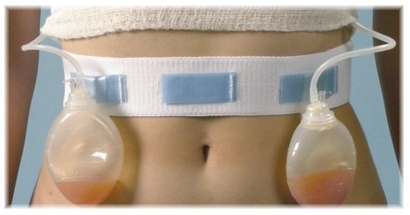 I found this handy little drain belt after the fact of course but I really like those tanks and continue to wear them every day.
Showering With Drains
My plastic surgeon said to wait 48 hours, but that I could shower with the drains after that. I hear time and time again from other women that their surgeon said no showering with drains. Each seem to have their own guidelines.
I was able to lean over the sink and wash my hair for the first week or so. During that time I also sat in the tub to bathe but never submersed my upper half. I just used a washcloth sort of like a sponge bath.
Now this sounds crazy and I'm sure it looked just as crazy as it sounds, but when I sat in the tub, I pulled my hair in a low ponytail and took two long hair pins and secured each drain to the pony tail. That's how I managed the drains while in the tub.
By the second week with drains, I decided to follow my surgeon's guidance and showered with the drains. I took a cloth white ribbon and tied it around my neck. I then safety pinned the drains to the ribbon. It worked like a charm! Again, I looked completely ridiculous but felt like a new woman after that first shower since the surgery!

A week before my surgery and for a couple of months after, I only used antibacterial Dial soap. I did shampoo my hair in the shower but only used conditioner if I washed my hair over the sink. I was afraid that the conditioner may possibly cause an infection if it got to my incisions.
Time Frame With Drains
Most people get their drains out in 5 to 10 days but mine were in for three long weeks.
No matter what I did or as little activity that I had, I simply couldn't get the output down to less than 30ccs in a 24 hour period which was required for two consecutive days before they could be removed.
The last week I never had an output more than 32ccs over a 24 hour period of time. I was just hovering around 30. Seriously, I can not tell you how many days 1 tiny cc of fluid dashed my hopes of getting these darn things removed. But I was taking no chances of having the drains removed too soon and risk my reconstruction due to an infection or complication such as seroma.
It was decided at the three week mark however that the risk of infection now outweighed the benefit of the drains. So the surgeon decided to remove the drains. Hallelujah!!
The surgeon's PA both removed the drains and completed my first fill at the same appointment. They felt giving the fluid less room to collect by beginning to fill my tissue expander was a good idea and it worked. I never had any complication even though I was still outputting around 30 to 32ccs a day.
My breast surgeon mentioned that sometimes the drains themselves are the culprit for the continued drainage. I'm not sure what caused it but I was so grateful to be able to move forward without these drains.
I shouldn't really complain. There are plenty of women who have had it much worse. But I think we would all agree; drains are evil. A necessary one but evil nonetheless.