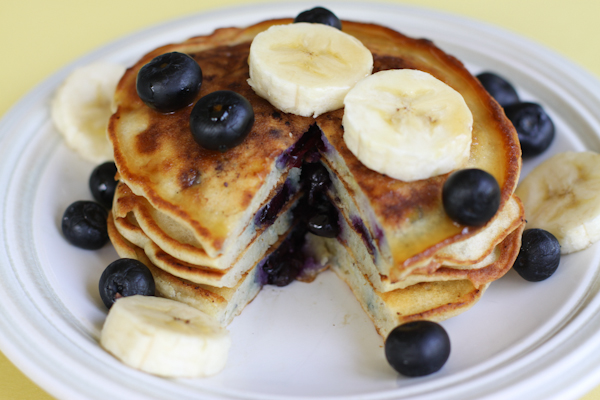 Blueberry Banana Protein Pancakes
Posted by b in BLOG, Healthy Lifestyle, Recipes
20
Oct
2013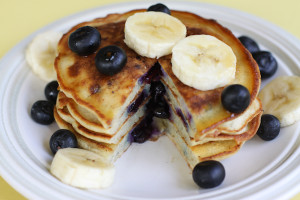 Good Morning Angels!
I've got a delicious and nutritious way to start your day today with these Blueberry Banana Protein Pancakes from Blogilates!
I LOVE pancakes! Especially protein pancakes. When I make them, I always make a bunch extra to put in the freezer as they are super easy to reheat on busy mornings.
There are a ton of 'Protein Pancake' recipes on the web you can try. If you don't have protein powder on hand this morning, you can find recipes with other protein sources such as cottage cheese or other ingredients you may have on hand.
Enjoy!
Blueberry Banana Protein Pancake!
Ingredients:
1 egg
1 scoop vanilla protein powder
1 tbs ground flax seed
1 ripened banana – mashed up!
1/2 cup fresh blueberries
1/2 tbs organic vanilla soymilk (I used almond milk. You can substitute any type of milk)
2 strawberries
Mix it all up! Fry with a tiny bit of EVOO. Then top with strawberries!
Total protein over 27g!
250-300 calories depending on how much fruit you use.
Photo & recipe: blogilates.com

Related Posts :