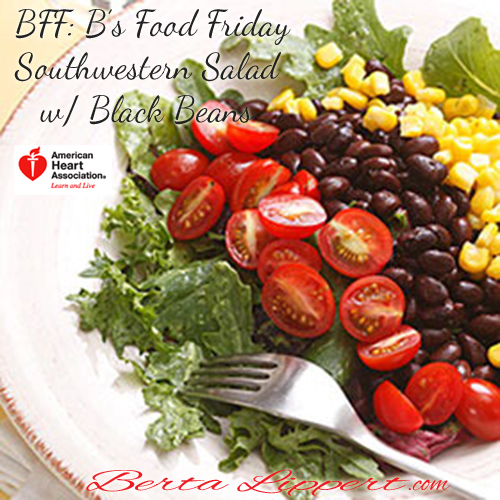 Southwestern Salad with Black Beans
Posted by b in BLOG, Healthy Lifestyle, Inspiration, Recipes
14
Feb
2014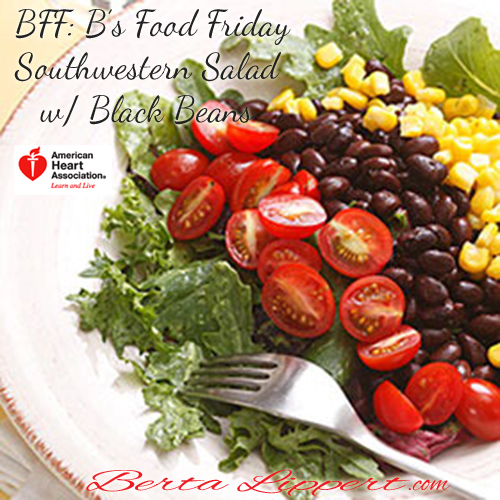 February is American Heart Month and that means heart disease awareness. Some well known tips to prevent heart disease includes maintaining a healthy weight and eating heart healthy fruits and vegetables. Today's BFF is a southwestern salad recipe from the American Heart Association.
The dressing is made up of hearty healthy avocado which is largely monounsaturated fat. That's good news because according to the Harvard School of Public Health, monounsaturated fats lower total cholesterol and LDL ("bad" cholesterol), levels. They also tend to slightly increase HDL ("good" cholesterol) levels. It's a win win! The tangy, delicious dressing also includes greek yogurt and garlic which we know help boost your immunity.
This is a simple, yet delicious heart healthy salad. Enjoy!
Ingredients (Serves 1)
Salad:
3 cups mixed greens
1/2 cup black beans, canned (rinsed) or cooked
1/2 cup corn kernels, fresh or frozen (thawed)
1/2 cup grape tomatoes
Dressing:
1/2 ripe avocado
3/4 cup packed fresh cilantro
1/2 cup nonfat plain yogurt
2 scallions, chopped
1 clove garlic, quartered
1 tablespoon lime juice
1/2 teaspoon sugar
1/2 teaspoon salt
Instructions:
Place avocado, cilantro, yogurt, scallions, garlic, lime juice, sugar and salt in a blender; blend until smooth.
Place greens in an individual salad bowl; toss with 2 tablespoons of the dressing. (Refrigerate the remaining dressing.) Top the greens with black beans, corn and tomatoes.
To make ahead, cover and refrigerate leftover dressing for up to 3 days.
Nutritional Info (Per serving):
Calories 235, Total Fat 4g, Saturated Fat 1g, Monounsaturated Fat 2g, Sodium 307mg, Carbohydrates 43g, Fiber 13g, Protein 13g, Potassium 1325mg
Related Posts :