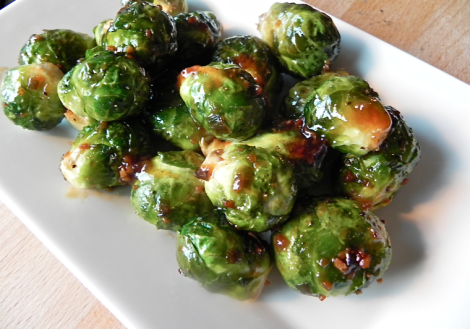 Balsamic Roasted Brussels Sprouts
Posted by b in BLOG, Recipes
12
Oct
2013

Ingredients:
1 lb. brussels sprouts, trimmed and cut into quarters
2 tbsp extra virgin olive oil
1 1/4 tbsp balsamic vinegar
1 1/2 tbsp parmesan cheese (preferably fresh grated)
1 tbsp pine nuts (toasted)
Directions
Preheat oven to 450 F.
Rinse, trim and cut brussels sprouts into quarters (Trader Joes sells packaged readied brussels sprouts)
In a medium sized bowl, toss the brussels sprouts, olive oil and balsamic vinegar.
Spread the brussels sprouts onto a parchment lined baking pan and bake for ~20-25 minutes.
Meanwhile, in a dry pan, toast the pine nuts for ~3 minutes until they start to brown (be careful not to burn them).
When brussels sprouts are done roasting, remove from oven and place it in a serving bowl/dish. Toss it with the parmesan cheese and sprinkle it with the toasted pine nuts.
Serve while hot. Enjoy!
Photo & recipe: eyeitryit.wordpress.com
Related Posts :