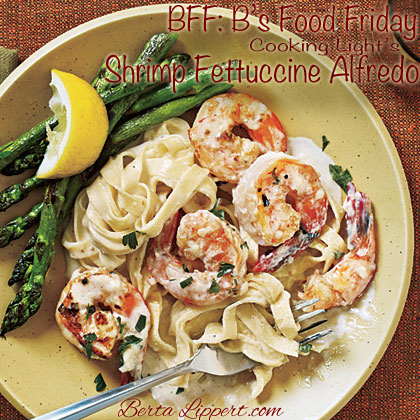 BFF: Shrimp Fettuccine Alfredo
Posted by b in BLOG, Recipes
09
May
2014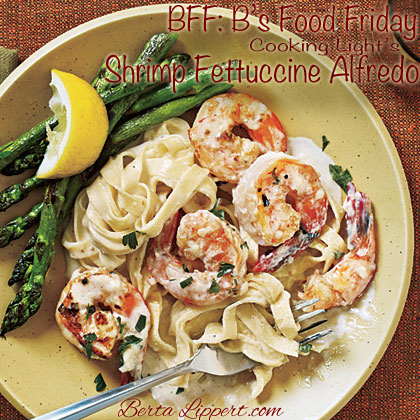 This recipe has been floating around my newsfeed on Facebook for the past week. I'm not normally an alfredo fan, but this one caught my attention. My son LOVES alfredo. When we're out at a restaurant, he'll often order it since it's something I rarely, if ever, make at home. The thought of making a healthier version for him however, piqued my curiosity. Thank you Cooking Light!
The only real substitution I made was using whole grain pasta instead. This is an absolute winner paired with a side of roasted asparagus. Or if you're like me and a huge fan of brussels sprouts, you can pair it with the Roasted Brussels Sprouts recipe I shared earlier.
Enjoy!
Ingredients:
1 (9-ounce) package refrigerated fettuccine
1 pound peeled and deveined medium shrimp
2 green onions, chopped
2 garlic cloves, minced
2 teaspoons olive oil
1/2 cup (2 ounces) grated Parmigiano-Reggiano cheese
1/3 cup half-and-half
3 tablespoons (1 1/2 ounces) 1/3-less-fat cream cheese
1/4 teaspoon freshly ground black pepper
2 tablespoons chopped fresh parsley
Preparation:
1. Cook the pasta according to package directions, omitting salt and fat. Drain pasta in a colander over a bowl, reserving 1/4 cup cooking liquid. Combine shrimp, onions, and garlic in a small bowl. Heat a large skillet over medium-high heat. Add olive oil; swirl to coat. Add shrimp mixture, and sauté for 4 minutes or until shrimp are done. Remove from pan; keep warm.
2. Reduce heat to medium. Add reserved cooking liquid, Parmigiano-Reggiano, half-and-half, cream cheese, and pepper to pan. Cook 2 minutes or until cheeses melt. Combine pasta, cheese mixture, and shrimp mixture. Sprinkle with parsley.
Nutritional Information:
Amount per serving (1 serving = 1 cup)
Calories: 442
Fat: 14.3g
Saturated fat: 6.1g
Monounsaturated fat: 3.1g
Polyunsaturated fat: 1.2g
Protein: 37.4g
Carbohydrate: 40g
Fiber: 2.1g
Cholesterol: 200mg
Iron: 3.2mg
Sodium: 565mg
Calcium: 256mg
Photo & Recipe: Vanessa Pruett, Cooking Light 
Related Posts :